The Force is strong with his scooter




Dumb people ride. I wonder if this person laughes at people on sportbikes because he thinks they are uncomfortable?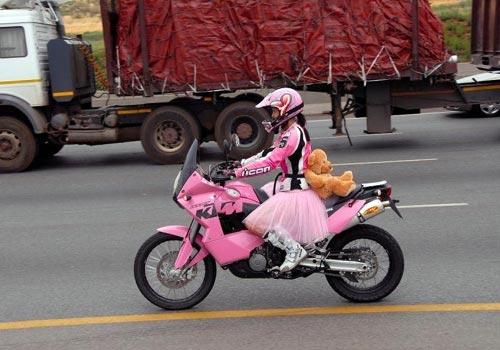 Cute people too




Gear won't help either when you don't wear it.




This is an actual picture of a friend of mine racing in Germany several years ago. He said he felt what he thought were a few drops of rain on his neck and then figured out the gas cap had come off on a high speed section of the track. Going nearly 150mph and on fire he decided he needed to be somewhere else than on this bike so he just kind of dropped off to the left. He was uninjured.



Rollie Free breaking the land speed record in 1948. Almost 150mph.




Lyle Lovett, one of the most skilled riders out there. He has experience on the street, dirt and track. I rode with him a few times.




George Clooney




Brad Pitt




Alanis Morissette




Alton Brown. You know...the chef on TV.




Orlando Bloom




Brad again




Joaquin Phoenix




Keanu Reeves




Steve McQueen about to start another race




Ewan McGregor riding around the world.




Daniel Day-Lewis